Our Hot spring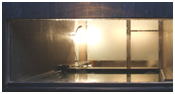 Why is Kuki's hot spring eco-friendly?

Our hot spring's springhead is located on our primus. We have adapted rich 100% springhead direct flow style for all the spas. No-water added, not-heated it's rich 100% natural spa.

Esashi Japanese style inn KUKI
1-5 Aza Ubagami-cho,Esashi-cho,Hiyama-gun,Hokkaido
043-0041, Japan
TEL:0139-52-2020 FAX:0139-52-6060

To see this content requires the latest version of the Adobe Flash Player. Having dedicated high-speed line to an Internet service provider may help you to see this content more smoothly.


A historic hideaway
In the history of Hokkaido's pioneering period, Esashi is believed to have adapted an outstanding characteristic.
Placing the passion for the seasonal events of the rich sea of Japan into the name Kuki, a surging school lf herring.
Now a special hideaway is born.