Time for Staying Esashi

Time spent in Esashi, an exchange base in North where nature, history and culture shine

Esashi is the historic city that first prospered in Hokkaido.
It prospered with herring fishing and its dealing and cypress wood trade to the Kitayama ship till the beginning of the Meiji Period. Buildings (QQ store, merchant house, town shop, shrine temple) that made the most of its composition are located in downtown along coastline,
           It is left as a distinctive townscape full of emotion as "Inishiekaido".
           "Ubagamidaijingutogyosai" having the oldest history and tradition in Hokkaido, and a warplane war ship "Kaiyomaru" revived at the end of the Edo era. Efforts such as enjoying the "Esashioiwake" in the real Japanese place, etc.
           Esashi has many romantic highlights.
Spot
Scenic spot of Esashi
"Inishiekaido"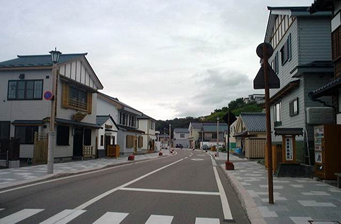 A road where historic streets continue for about 1.1 km. It is recommended to take a walk on foot slowly. Tourist facilities such as Yokoyama family, Nakamura family, Shigeru Ojinjinga are concentrated in the highway, footpath courses are maintained, too.
"Kamomejima"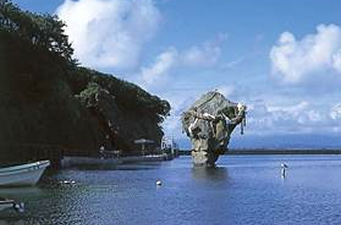 On Kameni Island, 2.6 km around, there are plenty of places to go, including a walking path of Bottle Rocks / Seagulls, a mooring of the Kitae Fishing Boat, Senjojiki, Itsukushima Shrine, Ma Rock and so on. Approximate walking time is about 30 minutes to 60 minutes.
"Ubagamidaijingu"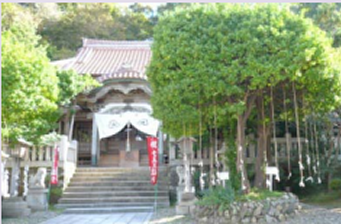 Please visit "Ubagamidaijingu" which is also the oldest shrine in Hokkaido, feel the breath and power. I do not know "something" hidden in this place, but may feel something energy that brought prosperity and development ...
Event
Esashi Event
In early May Spring's oldest dream road
「Esashi of Eiji boasts prosperity that is said to be said that "There is no May in Esashi in Edo." It is a unique and vibrant event that made use of local products and regional resources to recall such a time, while making full use of the historical / cultural heritage and the cityscape of ancient times. A big characteristic is that private houses along the old road also participate, Expanding contact with tourists. There are lots of attractive projects such as handicraft craft museums and pottery exhibitions, painting exhibitions, drama live performances, Esashi Morning Market · fresh group, and ancient tea house.
July Esashi Kamomejima Festival
A celebration held at the symbol of Esashi in Kamomejima. The main part of the festival is a large bottleneck barrel made by the men of the sea of Esashi together. We pray for maritime safety and big catch on the 10 meters in height of the big beach and bottlenose that stands on the front beach and rework a brand-new linen. With a fisherman's gross margin of 500 kilometers long, The pattern that one young person in the lower zone puts on a slender line with prayers is brave itself. Besides that, Esuden Onsen thousand people parade and all way Kitamatee boat race competition. On the island you can enjoy many songs including singing show, character show, hentai yaki etc.
July Active! Esashi seafood Minato sashimi festival
The season when the fishery fires in the offshore of the Sea of Japan, the squid of specialty calling lively in the port of Esashi. A summer festival where you can enjoy the squid of the season. The main character Ika is a freshly crowded thing. We transfer it to the fish cake, and the mothers of the beach stick it and offer it on the spot. While enjoying local festival entertainment and squid fishing experience, enjoy a fresh and transparent squid which is transparent. You can also enjoy a lot of Esashi seafood such as Ao-Yagi, Hirame, Red Lawless.
August Esashi Ubagamidaijingutogyosai
It is the oldest festival in Hokkaido with a history of more than 370 years, also certified as Hokkaido heritage. A summer big festival that was held in a fantastic way thanks to the fishery at the Esashi in the summer that ended the herring fishery of that year and replaces it with the economy of the Ezo place. In the mikoshi matrix, thirteen cars (Yama) who luxurious dolls, including Shinko mountain · Matsuyomaru designated as tangible ethnic cultural assets of Hokkaido, served and donated the town in the survey of Gion hayashi It is a masterpiece like walking around. A gorgeous and luxurious summer festival reminds of the glory of ancient times。
September Esashi oiwake National Congress
Esashi oiwake which is said to be the king of folk songs representative of Japan is also certified as a Hokkaido heritage. Eza oiwake Aiming for Japan's best, about 400 singers of Esashi oiwake selected from all over the country gathered, competing in the best of Japan's noodles, a big event unique to Eiji, home of oiwake. It is the most historic tournament as a national competition of folk songs held the first time in Showa 38.
October Autumn's Ancient Dream Road
February Esashi Taba Wind celebration
A festival that began to be defeated by the seasonal wind 'Tabakaze' from the north-northwest where coldness is the toughest in February throughout the year. Various happy events that allow you to experience Esashi Culture such as 'King Pitcher Tamiya Omori Dori? Ball Competition', 'Esashi oiwake Seminar', 'Hinoki Concert' and 'Ezumaki Exhibition' to be held over the course of a month.
February winter Esashi "bimihyakusai" NABE festival
Main event of "Esashi Taba kaze" to be held during February. Speaking of taste in winter is "NABE". There are more than 40 types of nostalgic pots passed from old to old, such as salmon and cod roe in the Gokko soup, horseradish soup of the hockey, whale soup etc. You can enjoy Eza boasted hot pot dishes. Besides this, it is a fun event that warm hearts and bodies such as regional performing arts, lotteries for enjoyment, soup stock service and so on.